Follow @twitterapi
Free HTML Oscommerce Clothes Shop Template
---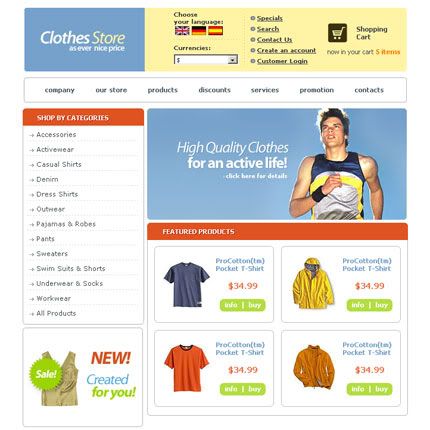 Free HTML Oscommerce Clothes Shop Template, A Free Full Clothes Business Store Site template is a pre-made design that consists of the main page and several additional pages that correspond to the menu tabs, suitable for Ecommerce, Tested and Work Fine On IE 6.0 & 7.0, Mozilla Firefox , Opera 9.02, Google Chrome and Safari Web Broswers, Template Realized Under Common Creative License, That Mean Keep it Legal by Leaving the Footer Links Intact, This Template has passed XHTML 1.0 Strict! & CSS level 2.1, To change the text, content, links etc. open the index.html in your preferred HTML Editor, Whether it be Notepad, Dreamweaver or Frontpage, To change the CSS open styles.css in a HTML/CSS Editor and Change The Appropriate Values to Suit Your Needs, The Full Sources available on the Archive : Fonts, CSS, HTML Files, and Photoshop .PSD Files.
Author : Icetemplates.com
Free Website Template
Several Columns
Table-Based Layout
Fixed Width and Valid CSS
Or
All The Content In Freethemes4all.com Is DMCA Protected! Any Copy / Past To Your Blog Or Website Will Be Reported And You Will Get a Suspend Notice.